It's Father's Day from where I hail so I'm doing this post in honor of all the super dads in this planet. Being a father is no ordinary job. His sacrifice is not limited to just enslaving himself for eight hours or more for a couple of dollars. To wear a huge smile at home despite a hard day's work, that's one tough job, eh. I especially pay homage to those dads who simply welcome the prejudices of the stereotypical society with a raised eyebrow a.k.a. you dads who are proudly into the business of the household laundry. Happy father's day to your dads and mine (who's now up in heaven and who we miss the most)! This post will highlight the notable daddies in books who had been extremely good at fatherhood. Feel free to add anybody else you think of.
---
10. Mr. Covey from the To All the Boys I've Loved Before by Jenny Han.
Who says daddies are the primary villains of a teenage daughter's love life? Mr. Covey is just the coolest because he's a dad, a mom, and a friend to all three of her daughters. It's so hard if you're a person striving to be man enough to be looked up to for support, woman enough to be concerned with feminine stuff, and young enough to connect with the adolescent culture.
9. Nathan and Andy Nolan from Lola and the Boy Next Door by Stephanie Perkins
For some typical headstrong juveniles, if having one daddy is a nightmare, then having two is a literal living hell. But Lola Nolan's life is on the contrary. There's something amazing about how you can have two men to guard you against the bad guys and support you all the way through.
8. Arthur Avery from Fangirl by Rainbow Rowell
Here goes another single dad, single-handedly raising twins, struggling to go on with life while worrying about his daughters' safety in college. Yup, Arthur Avery is one super papa!
7. Neal Grafton from Landline by Rainbow Rowell
Whoever says women are for the fluffy household works and men are for hard core butt-lifting jobs is precisely a person of the Neanderthal period. Neal Grafton sacrificed his work and stayed at home to take care of the kids so her wife can save her budding career. Was he bothered about what others would throw at his masculinity? No. Not at all.
6. Hans Hubermann from The Book Thief by Markus Zusak
The love of a foster father to a daughter can never be shown as wonderful and true as Hans Hubermann or Papa to Liesl. Blood isn't always thicker than water, right? This guy was so persistent and passionate in teaching her foster daughter the art of reading, something I'm not patient about even to my little relatives.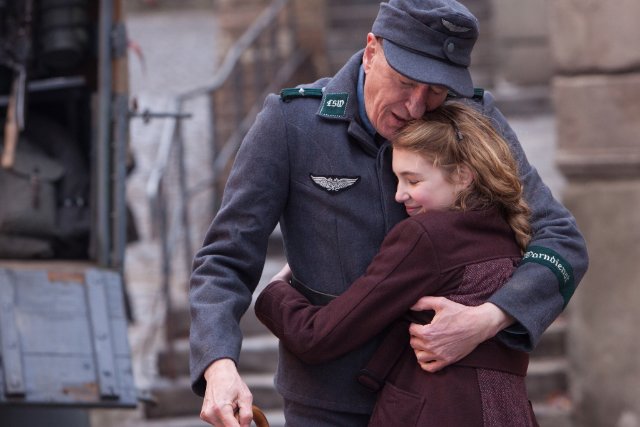 5. Atticus Finch from To Kill a Mockingbird by Harper Lee
If there's a guy who could have been a model father for loving and disciplining kids, Atticus would bag all the awards. Not only is his benevolence felt at home but it also radiates within the neighborhood.
4. Luke Garroway from The Mortal Instrument Series by Cassandra Clare
I know. I know. Luke isn't Clary's blood father but he might as well be one. With Valentine being absent going nuts about destroying all the shadowhunters, this [hot] guy was the one Clary looked up to as a daddy figure.
3. Arthur Weasley from the Harry Potter Series by J.K. Rowling
The picture shows it all. No doubt. Arthur Weasley is definitely nailing fatherhood! Despite being short on most physical resources, he managed to give a good life to all seven red heads and a lovable (but noisy) wife. Excuse his inexplicable passion for muggle artifacts!
2. Sirius Black from the Harry Potter Series by J.K. Rowling
With the absence of The Boy Who Lived's parents, the godfather took the role – the best friend, the adviser, the house granter, the awesome father. The duration was ephemeral but it sure was quality time. Who didn't cry buckets when the fifth book concluded? Totally heart-wrenching.
1. Jesus from The Bible
For God so loved the world that he gave his one and only Son, that whoever believes in him shall not perish but have eternal life – John 3:16
Always, always the promise I'm holding on to.